During the Summer Market season, join Janati Yoga School for a free 1 hour yoga class on the grass from 10am-11am on market days.
Running Mothers' Day to Thanksgiving, this class does not run in the rain. For the most up-to-date news on whether class is running that week, we suggest you follow Janati on facebook.
It is a truly amazing experience to practice outside – breathing fresh air with the sun shining down on you while you stretch and flow through the practice. After class you can walk across the parking lot and get your fresh local groceries for the week.
Everyone is welcome – whether you are new to yoga or you've been practicing for many years. Bring a mat or a towel to put on the ground, and a filled water bottle to stay hydrated. Remember to apply sunscreen and bring your sunglasses and a hat.
You are welcome to sign up online through the Janati website, or simply show up. We hope you will make the time to join us for one class, or all of them. We look forward to sharing practice with you this summer!
Learn more about special market events on the events calendar.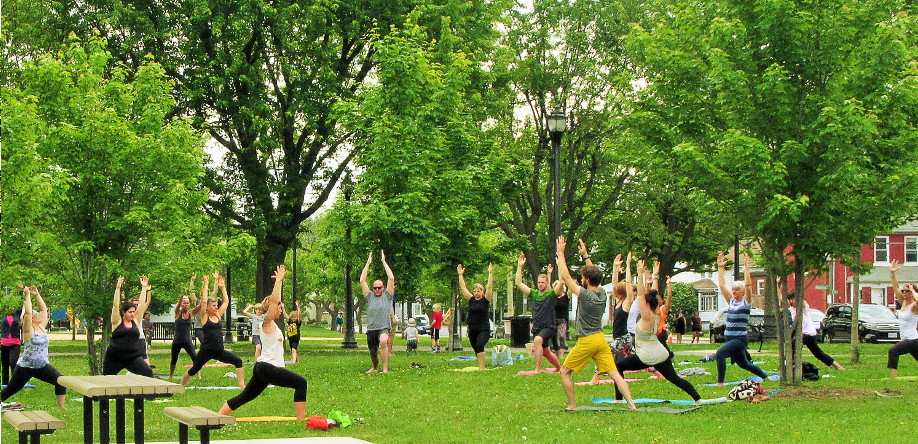 ABOUT JANATI
At Janati, we are dedicated to yoga as a lifestyle, and to the growth and empowerment of our students through sharing the gifts of yoga. We emphasize HEART (ahimsa), INTEGRITY (satya), and SIMPLICITY(aparigraha) in our approach to yoga and living.
What we do at Janati is use the tools of Yoga & Ayurveda to facilitate CONNECTION.
First, we support our students in connecting to themselves through the practices – this way you will figure out how to come home to yourself and what you need to take the best care of yourself.
From there, we offer connection between the student and the teacher and connection to community – the community at Janati and the whole of the city and global community too! As independent as we may be, life is meant to be lived together – supporting each other and learning from each other. 
We believe that the essence of Yoga is unconditional love; embracing the full spectrum of experiences, people, places, and things with reverence and awe… Moving towards our authentic self is moving to greater expressions of love and connection with our world.
Janati is a sanskrit word that translates to "learn" and "experience". I like to think of it as "learn through experience" – which is how yoga works, what we teach, and why it was chosen as the name of the yoga school.