On October 27th in honour of Waste Reduction Week in Canada, we redesigned our recycling & compost stations and officially started inviting market shoppers to bring reusable dishes and containers for ALL their market purchases! This is very exciting news and something that several of our volunteers and vendors have been passionate about for years.
While we are still developing policies and community consultation around this topic, we settled on the following draft guidelines for those bringing reusable containers for perishable foods:
WHAT YOU NEED TO KNOW: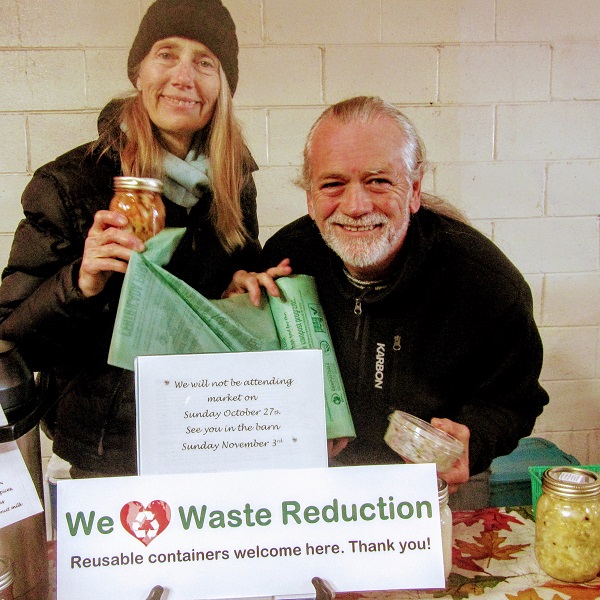 Customers must verify to the vendor at each stall visit, that their container meets these minimum standards for use:
The container and lid must be:

made of a material that can be cleaned, washed or sterilized. (such as plastic, glass, metal, ceramic, or cloth)
reusable and of a type that is ordinarily used for food products
visibly clean; must not contain any food or other residue, indicating that it has not been cleaned after its prior use. Lids must also be clean.
intact, sturdy and capable of being filled with product, with no holes,
tears or cracks.
plain and neutral, free of bar codes and logos
sealable. Jars need to have an accompanying lid. Bags must have a drawstring or clip closure, etc.). 

Metal lids should not have any visible rust on them.
If the vendor is required to fill the container, the customer must remove any lids prior to passing
the container to the vendor.
Plastic and paper bags (including, but not limited to convenience bags, coffee bags and spice
bags) are not considered to be acceptable reusable containers.
Glass or ceramic containers must not be chipped in any way.
Vendors reserve the right to reject any containers that do not meet our minimum standards.
WHAT VENDORS ARE DOING:
Products sold in compostable packaging:
Butternut Creek Flowers
County Rd. Coffee Co.
Crusty Baker
Farm Sum / Long Road Eco. Farm
Kelly's Gourmet Mushrooms
Little German Baker
Loon Kombucha
Natural Turnings (starting in January!)
Old Apple Ridge Farm
Pet Mugs Pottery
Pizza Monster
Real Food
Wilton Wheat Kings
Products sold in reusable/returnable packaging:
Butternut Creek Flowers
Cocoa Bistro
Farm Sum / Long Road Eco. Farm
Freedom Farm
Hard Way Cider
Highland Gem Farm (starting in January!)
Loon Kombucha
Main Street Urban Farm
Maple Lim Farm
Memories of Alexandria
Saft
Winding Path Organic Farm
Hot Food served with returnable dishes:
Knifey Spooney
Little German Baker
Main Street Urban Farm
DISCOUNTS FOR WASTE REDUCTION CHAMPIONS:
We love supporting our community in their efforts! To further support us, several market vendors are now offering incentives to their customers who come prepared with reusable bags and containers.
Cocoa Bistro – $1-$2 off when refilling a returned box
County Rd. Coffee Co. – BYO cup for 25 cents off all beverages
Real Food – BYO cup for $1 off smoothies
Winging Path Organic Farm – 50 cents off for each returned jar