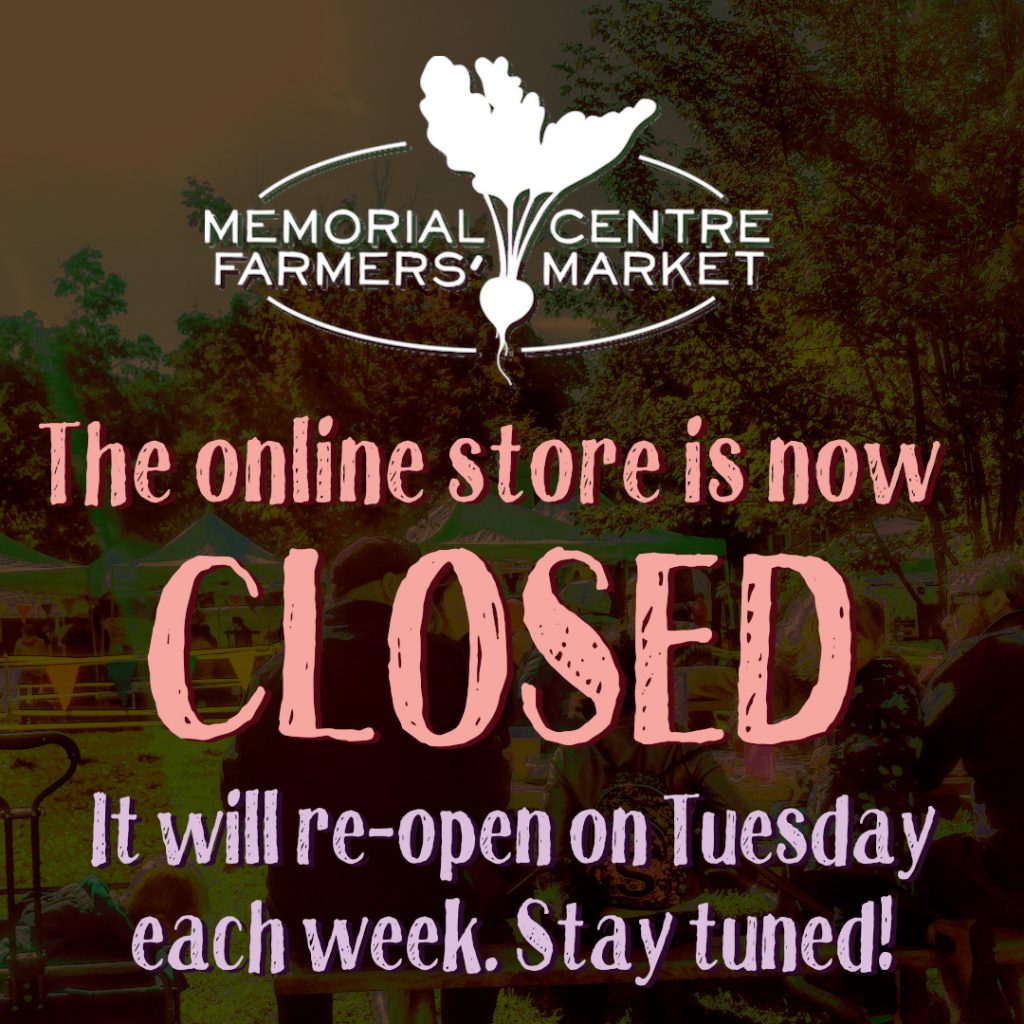 Friday March 27th, 2020
The online store will be open Tuesday noon- Thursday midnight.
Subscribe to our weekly e-newsletter to be notified when the store re-opens.
---
Please read carefully before ordering:
PAYMENT BY E-TRANSFER ONLY

Please submit payment right away after ordering.
We reserve the right to cancel orders that are not paid within 12 hours.
Don't use online banking? Please ask a trusted friend or call your bank for help.
Send e-transfer to

orders@memorialcentremarket.ca
PICK-UP BY APPOINTMENT

ONLY

You will receive a follow-up e-mail with your pick-up time
Please read and follow all instructions in your appointment e-mail.
For your safety, please arrive as close to your pick-up time as possible
Your time might be anywhere between 9am-2pm Sunday

We have to process special requests manually, so please only request a specific time if absolutely necessary for your health or work schedule
PLEASE DON'T KILL OUR VIBE

Please do not make any changes to your order after submitting it.
Please do not submit an order that might be cancelled.
If you're not sure, the system will hold your cart for you
AVAILABILITY

Not all vendors or products are listed for a number of reasons.
We will be continually be adding new products each week.
CAN'T LEAVE YOUR HOUSE?

We are

offering free delivery by special request

only to those who are not able to arrange pick up any other way.
Once your order is submitted and paid, please e-mail us at orders@memorialcentremarket.ca with your full address and order number.
FOR FIRST TIMERS…

Watch the tutorial video below on the Local Line platform if you can

Watch the video and still stuck?

Please e-mail your questions to orders@memorialcentremarket.ca or call Emma at 613.572.7059
We're doing our best, but we appreciate your patience if we can't get back to you right away.
Thank you everyone for your kind words of support and encouragement as we achieve amazing logistical feats to bring market to an online platform!
The online store is run by a dedicated team of farmers, supporters, volunteers and community members doing our best to keep the market alive during the COVID-19 shut downs.
Keeping everyone safe and healthy is crucial. We are proud to be keeping the market alive while also taking strict health & safety measures.
Are you ready to get started?!
Local Line Customer Introduction Video: